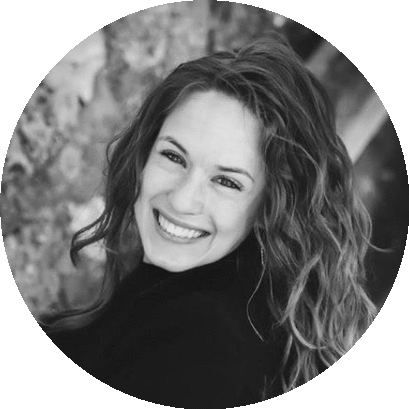 Ilana Nankin, Ph.D., is a teacher educator, change agent, and former pre-k teacher who has committed her life to creating a more socially just world for children, teachers, and communities. After receiving her B.A. in Psychology and Education and facilitating education courses at University of California- Berkeley, Ilana became a Pre-K teacher, early childhood education instructional coach, and non-profit leader in San Francisco. Determined to bring the essential voices of teachers to the forefront of education, Ilana left the Bay Area in 2012 to pursue a Ph.D. in Curriculum and Instruction at the University of Wisconsin-Madison, where she now teaches, supervises, and mentors early childhood and elementary pre-service teachers, conducts educational research, serves in various leadership roles across campus, and teaches yoga. 
---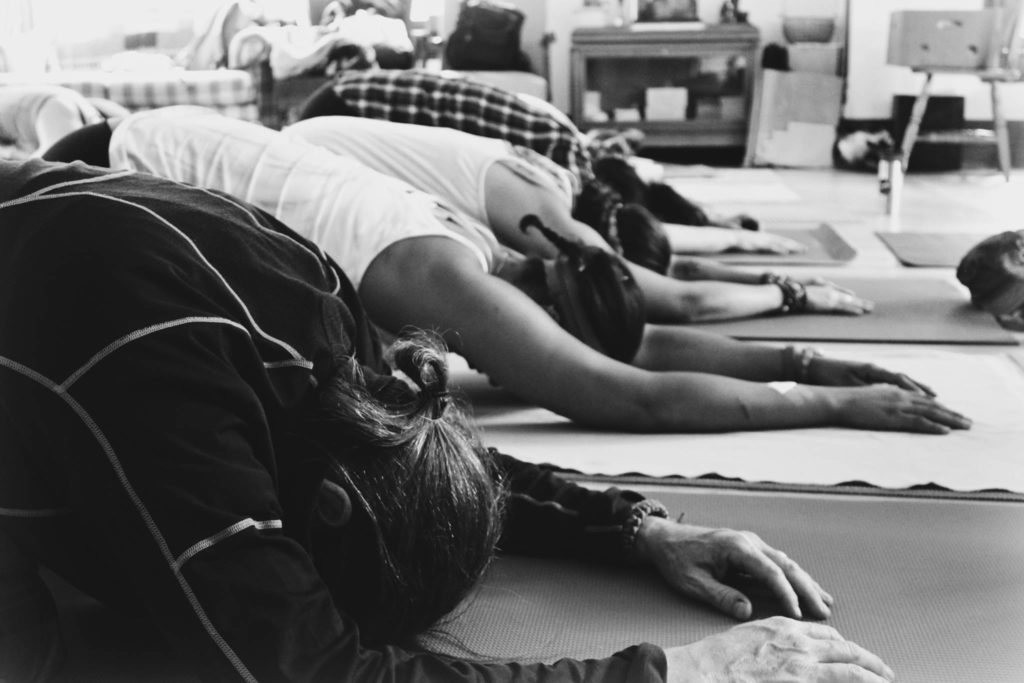 Can you tell us about Breath For Change?
Breathe for Change is a movement that aims to empower educators to transform themselves, their relationships, and their communities in order to create a more socially just and peaceful world. We offer the world's only 200-hour wellness and yoga training that is specifically designed for educators.
Why did you start Breathe for Change?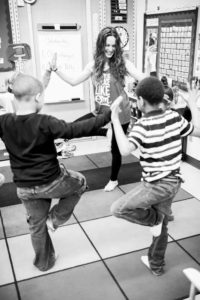 As a former Pre-K teacher in San Francisco, I was incredibly stressed. I found yoga and mindfulness and it completely transformed my teaching and my personal life. I started using the practices in my own classroom and saw transformational outcomes both social-emotionally and academically for my students. I came to the University of Wisconsin-Madison to pursue my Ph.D. in Curriculum and Instruction. Through my research and teaching, it became clear that teacher stress and burnout is a universal concern and that our teachers don't necessarily have the means to take care of themselves as they support their students. I realized I had to do something about this. My vision was to prioritize teacher well-being in the education system by giving them tools to deal with the stresses that they face everyday.
I completed a yoga training the year before and it was truly transformational as a teacher. I wanted to share this experience with other educators and I had the idea to start the world's first 200-hour wellness and yoga teacher training. We designed it specifically for educators to give them skills to integrate mindfulness and yoga into their lives, build communities, and affect school-wide transformation.
Michael Fenchel, who was a successful entrepreneur, was inspired and wanted to help formalize this into a business. We came together in 2016 to pilot ten school-wide wellness programs that were premised on three thematic workshops: transformation of self, relationships, and community. Our graduates taught weekly wellness classes that were a mixture of community-building activities, mindfulness, and yoga. We also created content that teachers could use to take care of themselves, social-emotional strategies for students, and a vision of well-being that leaders could integrate into their larger vision of education. What we witness was a ripple effect within a few months of that initial training; we had such a positive response that people were actively introducing these strategies in their schools.
What are the basic tenets of the curriculum?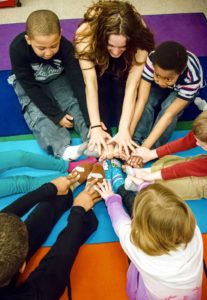 When I was a Pre-K teacher, a student raised his hand in our community circle and said, "In a community, first you have to love yourself, because if you don't love yourself, then you can't love anybody else." When we broke it down, this young student's words were truly the inspiration behind our curriculum. The whole transformation progression is grounded in this idea that in order to take care of others, we have to first take care of ourselves. Accordingly, our curriculum incorporates a wide range of wellness techniques based in yoga and mindfulness that promotes the transformation of self, relationships, and communities. What makes our yoga training unique is the emphasis that we place on developing relationships within our school communities.
"In a community, first you have to love yourself, because if you don't love yourself, then you can't love anybody else."
It the curriculum geared toward any level of educator?
Our 200-hour training is for any educator involved with Pre-K through 12th grade. We differentiate our social-emotional learning strategies so that teachers within the same grade levels are working with each other when we do peer mentorship groups. This gives teachers the opportunity to connect and share resources with colleagues sharing similar experiences. Breathe For Change is relevant for a diverse range of individuals working within schools, including educators, principals, school social workers, and college professors. We believe that having a diversity of perspectives and experiences strengthens everyone's experience within the community.
Is the program designed for schools or individual teachers?
Initially, we designed it for individual educators. However, we see a trend unfolding; when we first launch in a new city, we primarily recruit educators, they take it back to their schools, and then the districts take note and begin to get excited about this. This potential link is really exciting because if whole districts get on board, then we're better able to enact systemic change.
The first training we piloted was in the Madison school district. This introduced Breathe For Change with the district and so that created a formal partnership with the entire Madison Metropolitan School District. That gave more schools and teachers the opportunity to get on board.
Anything is possible when an entire leadership sees benefit in this vision. We're going in that direction, but for now we market to educators and principals to forward to their educators. Principals can recognize that if they can have even one educator participate, those educators can implement a wellness program into their schools.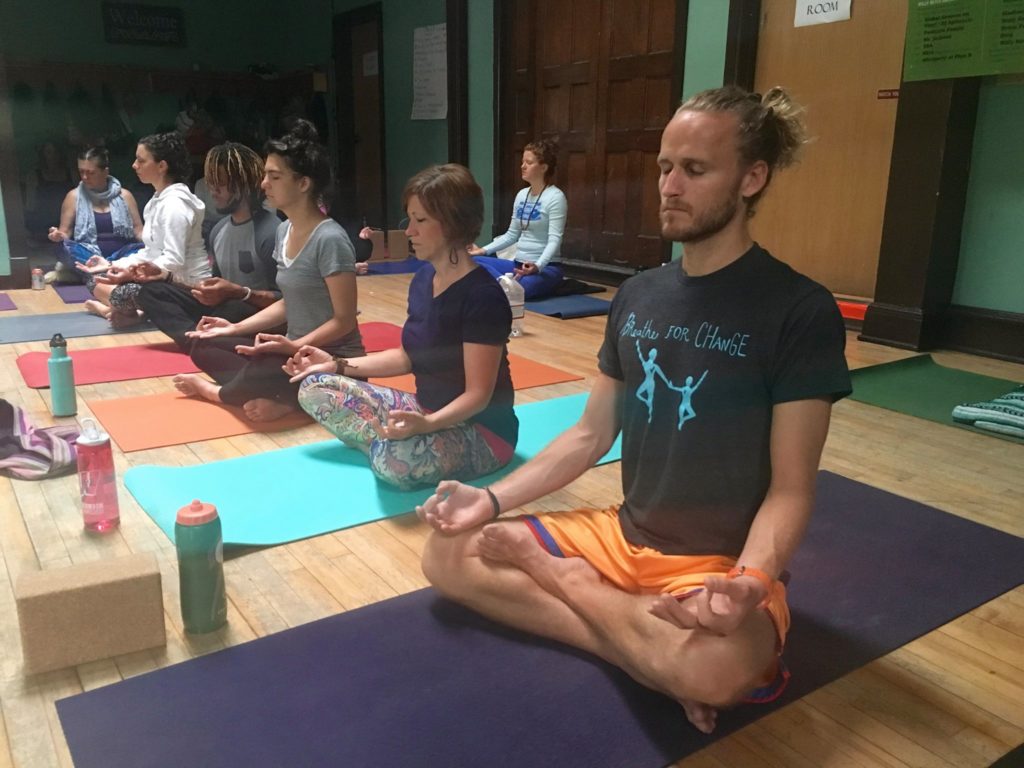 How do you measure the impact it has on children and teachers?
Last year I worked in partnership with the University of Wisconsin, Madison and received approval to conduct a research study to test how our training impacted the lives of our graduates and their educational communities. What we found was that 100% of these teachers said that Breathe for Change significantly reduced their stress levels and enhanced their well-being. We also found that all of the schools that have wellness programs reported increased collaboration among staff and feel a deeper sense of community. The teachers have also self-reported gains and enhancement in the social-emotional and academic outcomes of their students.
"What we found was that 100% of these teachers said that Breathe for Change significantly reduced their stress levels and enhanced their well-being."
Through my dissertation, which focused on the training experience of eight teachers, I found a correlation between students' social-emotional learning and their academic performance. I think that correlation is expected, but not necessarily prioritized in our educational system. If we are taking care of our kids' social-emotional needs, then their academic performance is going to subsequently improve. Instead of focusing on the literacy and math scores, we should shift our focus to the underlying issues that the children are facing. If we give them the tools and supports to enhance their social-emotional development, then ultimately that will have a direct and lasting impact on their lives.
One of the participating schools noticed the impact of Breathe For Change on the rate of students' behavioral incidents. This is a school where every teacher participated in the program. They found that the rate of behavioral incidents decreased by more than half from the year before. Instead of detention, they practiced non-violent communication among other strategies that we taught their teachers.
The other thing that we found was the results from the surveys we gave to 150 teachers who completed the teacher training. We did a pre-survey, at the end of each segment, as well as a post-survey. What we found was that the Net Promoter Score (NPS), assessing whether the program participant would refer this to colleagues, we received a 100% score. This means that every teacher says that they would recommend this training based on the value that it brought them.
"They found that the rate of behavioral incidents decreased by more than half from the year before. Instead of detention, they practiced non-violent communication among other strategies that we taught their teachers."
When you mention building community, is that designed for children or teachers?
I would say both, but it starts with an emphasis on the teachers. In our trainings, we create a space that allows teachers to be vulnerable. They are encouraged to express themselves fully in a trusted community of peers. Most teachers haven't necessarily experienced that before. Those who graduate our training cultivate a support network that they can readily access anytime after. The community starts at the training, but there is a ripple effect. They first learn how to build communities and later they share these techniques with their colleagues. For instance, some teachers start everyday with breathing exercises with the rest of their staff.
All of the social-emotional skills we teach not only enhance the individual student's emotional regulation capacity, but also teach them how to cherish community. We show students how to connect with our fellow peers, appreciate, and become present for one another. We're discovering that this is possible with any student age four and up. We're giving students a toolset to infuse these skills in any area of their lives.
Have you faced any resistance?
Actually, I have been shocked with how little resistance we've had. For some people, mindfulness and yoga carry stereotypes, mainly that it's religious-based. We recognize that the language that we use is important. Terms like 'yoga' aren't used in our program. We're cognizant of this even though the scientific research supports the benefits of yoga and mindfulness. My whole intention is to circumvent these potential resistances. We teach teachers how to reframe what we're doing using very universally accepted vocabulary. For example, we tell our teachers not to use the term 'yoga' in their schools, but instead 'mindful movement'. The action of teaching 'yoga' or 'mindful movement' is the same, but the implications are very different. Outside of a school setting, educators can choose the term that most appropriate. But within a school, we use these universal terms with sensitivity to the resistance that we could face.
We also have found some resistance working with large districts where there is more bureaucracy, legalities, and rules. They might have existing initiatives that they have been working on for years. It can be challenging to introduce new programs on a systemic level. That's why we focus on teachers first. No policy is going to prevent a teacher from introducing community building into their staff meeting or classroom. It's happening even with some of these systemic barriers in place. I think that in time as we train more teachers and develop more leaders in our schools, policies will hopefully start to change. We might see superintendents instead of teachers introducing Breathe For Change to their entire district. In time it will grow when everybody sees its intrinsic value.
Where would you like this to be in ten years?
In ten years I would like to see Breathe For Change in every single school in our country. I believe it's paramount that our education system recognizes the value of teacher well-being. We hope to see complete shifts in our education system with a deeper focus on social-emotional learning and teaching. I see Breathe For Change as a movement that is creating educators with agency to change the world. I want see the world as a happier and healthier place and by giving educators the ability to transform communities, starting with themselves. That's the key to world transformation. It would be my dream to have everyone know what Breathe For Change is and see the real effects it has on individuals, if not systems. I want to see injustice and disparities in schools conquered. I think that the missing link is social-emotional development and wellness and I want to see that prioritized.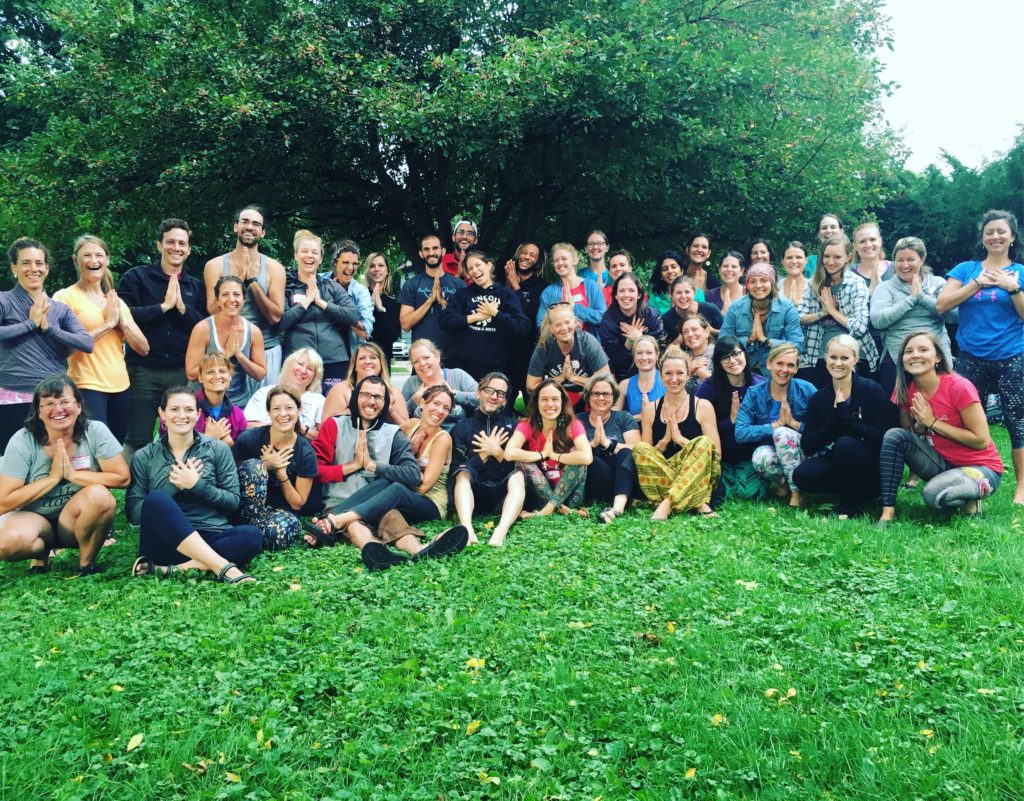 ---
Interested in participating in Breathe For Change Spring training?
Graduates will receive the official Yoga Alliance 200-hour certification, as well as be certified as Breathe For Change Wellness Champions, qualifying to lead wellness programs at their schools. Learn more about the program here and let them know that you read about them here at the ScienceofMindfulness.org.